Leptidea sinapis sinapis (Linnaeus, 1758)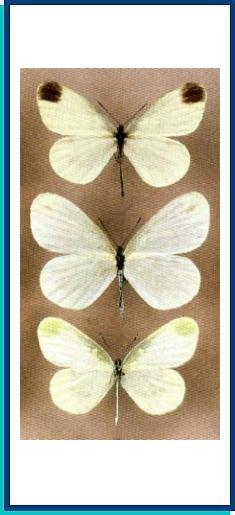 • TYPE LOCALITY. Sweden.
• RANGE. The whole of Europe and eastwards across the Caucasus, Asia Minor, the Middle East, Middle Asia, Kazakhstan and S. Siberia to the Baikal region.
• DISTRIBUTION AND VARIATION. Geographical variation is modest, nonetheless the following subspecies are recognized: spp. sinapis (Linnaeus, 1758) - the European part, W. Siberia, the S. Altai; ssp. pseudodiniensis (Pfeiffer, 1927) - the Caucasus Major and Minor, Kopet-Dagh; ssp. melanoinspersa Verity, 1911 - W. and N. Tian-Shan, Dzhungarsky Alatau, Alai. The status of the form known from Darvaz is uncertain.
• HABITATS AND BIOLOGY. Meadows, forest edges and sparse forests up to 2,500 m a.s.1. Flight period: April-October in two, sometimes three, generations. Host plants in Europe (Eckstein, 1913; Lorkovic, 1947; Ebert, 1991; etc.): Fabaceae (Lathyrus pratensis, Lotus corniculatus, Vicia spp.).
• SIMILAR SPECIES. L. morsei (mainly the first generation differing): FW more produced along Ml vein; apical spot divided by grey stripes along veins (in males); UNH ocherous-yellowish with a typical transverse pattern (in the second generation FW are less strongly produced along Ml vein; UNH transversal pattern is less strongly marked but still visible). L. duponcheli: UPH apical black spot stretched and continued as a shade along termen; UNH with greenish superscaling at base, best developed in first generation adults. L. amurensis: FW very strongly produced.
Photo and text: Guide to the BUTTERFLIES OF RUSSIA and adjacent territories Volume 1. PENSOFT, Sofia - Moscow. 1997