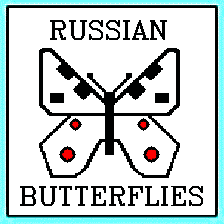 ---
INSECTS FROM FORMER USSR

Introduction
---
The INSECTS FROM FORMER USSR FOR COLLECTORS Web site is a "work in progress," consisting photo and following information for each species:
• TYPE LOCALITY
• SYNONYMS
• RANGE .
• DISTRIBUTION AND VARIATION
• TAXONOMIC NOTES
• HABITAT AND BIOLOGY
• SIMILAR SPECIES
You can see the general map of the major faunistic regions of butterflies of the territory of former USSR.
Because it is a "work in progress," the INSECTS FROM FORMER USSR Web site is constantly being updated. Additional taxons, photos, and species information are being added.
In addition you can order insects for your collection.
The insects price list is refresh regularly.
If you want to get more information about insects of former USSR, don't hesitate to contact.