Maniola jurtina (Linnaeus, 1758)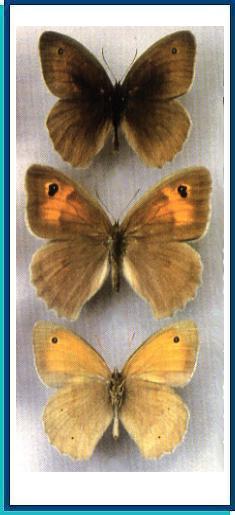 · TYPE LOCALITY. N. Africa, SW. Europe.
· RANGE. From N. Africa across Europe (except the extreme north) to the Ural Mts. and W. Siberia, and across Asia Minor and the Caucasus to Turkmenia and Iran.
· DISTRIBUTION AND VARIATION. The central European part, the Middle and S. Urals, W. Siberia (the Kurgan Region) - ssp. janira Linnaeus, 1758. Other subspecies are as follows: ssp. strandiana Oberthur, 1936 - the S. European part, the Caucasus Major and Minor, the Armenian Highland; ssp. persica (LeCerf, 1912) (=? ghilanica LeCerf, 1913) - Kopet-Dagh.
· HABITAT AND BIOLOGY. Forest, forest-steppe and meadow steppe habitats up to 2,000 m a.s.l., also cultivated lands (forest plantations, parks, orchards, etc.). Flight period: May-August depending on the geographical location and climatic conditions. The main host plants (Eckstein, 1913; Ebert, 1991; etc.): grasses Poa, Bromus, Festuca, Milium, Brachypodium, Lolium, Avena, Alopecurus, Anthoxanthum. Larvae hibernating.
· SIMILAR SPECIES. Hyponephele lycaon: smaller; male androconial area not diffused, obliquely directed and divided into three parts by veins Cu1 and Cu2; female with two ochreous ringed eye-spots.
Photo and text: Guide to the BUTTERFLIES OF RUSSIA and adjacent territories Volume 1. PENSOFT, Sofia - Moscow. 1997